Family Martial Arts in Roanoke
Family Martial Arts Brings Roanoke Together!
Want to enjoy Taekwondo with your loved ones? With our Family Martial Arts classes, you can!
Our Family Martial Arts classes bring different ages and belt levels together for a training session that incorporates the whole family. Mothers, fathers, sisters, and brothers from all around Roanoke come to train with us because they want to experience Taekwondo without having to deal with the hassle of attending separate classes on a different schedule from their family members. The best part is, parents train for free when children are enrolled!
Just fill out the short form below to learn more about our Family Martial Arts program!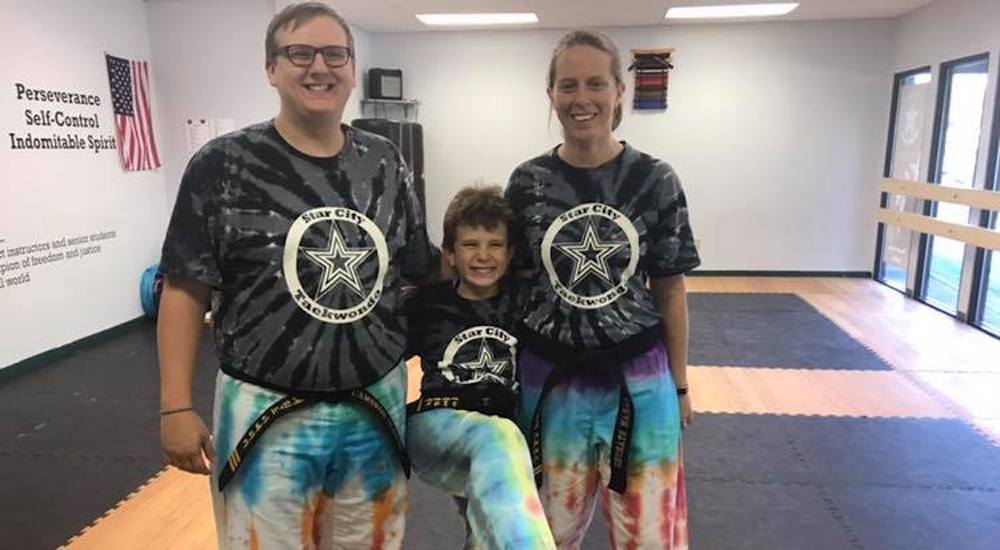 Why Choose Family Martial Arts?
Through our Family Martial Arts program, you'll be able to enjoy Taekwondo alongside the people who matter most... and the whole family can get a workout in a fun, healthy way! Parents have the opportunity to become role models for their children, helping to introduce core tenets of Taekwondo such as respect and perseverance, and to ensure that those values coexist in both the home and in the dojo.
Star City Taekwondo is proud to bring Roanoke's most unique martial arts offering to the table. Discover how Taekwondo can help your family build a foundation of success through martial arts training!
Family Martial Arts classes offer:
Exciting Taekwondo training for the whole family
A unique bonding activity for siblings and parents
Simplify your training schedule by attending family classes
The excitement of becoming a family of black belts!
And don't just take our word for it!
Here's what one of our students, Ryan Flack, had to say about our Family Martial Arts Program:
"Love it! My son and I signed up on a whim and I'm really glad we did. Cameron and Sarah are very kid friendly, but also have the knowledge and skill to train adults! It's a non-intimidating environment, and such a perfect way to introduce yourself to combat sports and martial arts. I appreciate how they train my son and I differently according to age and size, so we really get a tailored experience. Don't think about it, just come and try a class for free! You get a good workout and learn so much about the sport."
Our Family Martial Arts classes are a great way for people across Roanoke to get access to convenient, family-friendly Taekwondo training. Join us at Star City Taekwondo and discover how the martial arts can make families closer, more respectful of one another, and more driven to achieve personal goals!"
Enjoy Family Martial Arts Classes at Star City Taekwondo Today!
Through our Family Martial Arts classes, you can avoid the stress of dealing with diverse class times and enjoy learning alongside your parents, siblings, or children. We're offering high-quality Taekwondo instruction to families across Roanoke, so that they can bring the core values of Taekwondo home as a unit... and remember, when children are enrolled, parents get the opportunity to train at Star City Taekwondo for free!
Just fill out the short form below to get started with Family Martial Arts classes!